A police-procedural, an undercover investigation, and questions about what it means to be a writer...
My newest read, Rene Gutteridge's
Misery Loves Company
mixes up all three.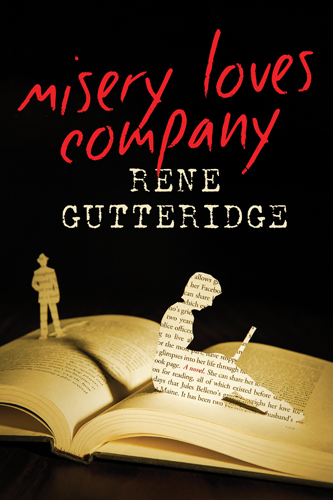 As the story starts, Lt. Colonel Jim Franklin is worried about his daughter
—
she needs to get out more, write more, see more people. In fact, he's the only person Jules sees, and that's only in the morning, before he starts drinking.
Jules (Juliet) Belleno doesn't want to see people, or do anything at all that would change her dull, careful routine. Always shy, she's been a recluse since her husband Jason was killed during an investigation. She does write
—
on her blog, and on Face Book
—
but she can't convince her dad she's happy with the way her life is.
Then, after reviewing her favorite author's latest novel, Jules meets that author
—
and wakes up to a nightmare.
And when Jason's former partner Chris Downey tries to find Jules, he meets resistance from his own chief and the police department's rules. He dodges the rules, but in the process, he finds another mystery, one he's never even guessed at.
Misery Loves Company
is my first encounter with Gutteridge's books, and I enjoyed the experience. At the same time, it's a hard book to categorize. It's a Christian suspense novel, but neither Jules nor Chris is a Christian. It's also a story with strong emotions, although the resolution feels a little too easy, like the happy endings Jules is warned against. Half the story follows a relatively clean, though convoluted, missing-person search, while the other half turns into a bizarre writer's retreat as Jules tries to understand what it means to write, to have inspiration, to find meaning. Her only chance of safety seems to be answering the hard questions that never get any answers.
For me, the first half of the story read very smoothly. It's not an action story (at least until the very end). Most of Chris's investigation leads to interviews and sorting through old papers, but even when he's most frustrated with the search, the story carries well.
The challenge comes in the second half of the plot
—
like Jules, I couldn't always see where that storyline was headed. I did find it interesting, especially as an analysis of the writer's struggles, but then I am a writer. I'm guessing that other readers might skim these sections, or read them for the emotional conflict, rather than the writing atmosphere.
So,
Misery Loves Company
is a good read, and if you like metafiction about writing in your books, I'd definitely recommend it. Just be ready for a heavy
—
though not exactly sagging
—
middle.
And I'm curious—what do you think of novels about writing?
[My thanks to Tyndale House Publishers for sending me a review copy of
Misery Loves Company
, in exchange for my honest opinion of the book.]