Slave girl + political star might seem an unlikely combination, but it's a combination Nym is stuck with. She's the slave girl, of course, and the political star is her owner Adora, who wants to hide Nym in the shadows of her brilliant entourage.
Adora also wants to turn Nym into her pet WMD, which might work if Nym cooperates--and if Nym doesn't turn deadly too soon.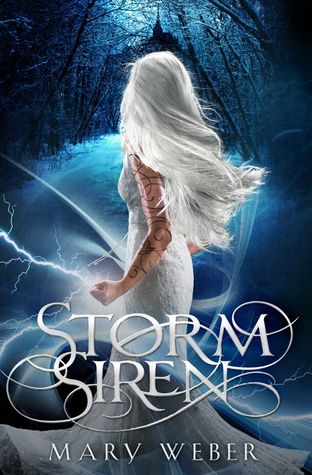 Welcome back to the second day of the CSFF tour for Mary Weber's
Storm Siren.
As always, you can find a lot of other people talking about this book at the tour's headquarters
over here
. Or, you can stick around and read my review right here!
First off, I was very excited to discover that this new fantasy author might soon become a favorite. (I'm waiting for the rest of the series, just to make sure.)
Storm Siren
has a lot of the elements that I like in fantasy--a mostly medieval setting, though with a fun steam-punk twist; vivid magical powers that bring both thrills and devastation; and an important legend woven into the story. Especially the legend...
Some fantasy gets away without have too much history in its world, while other fantasy gets bogged down. I won't go into much detail, but a huge part of why I loved this story was a certain legend introduced early in the novel. The legend, originally retold in a song, actually becomes important to the main story, instead of yet-another throw-away Tolkien/fantasy must-have-a-poem-in-the-story 'trappings.' So for me, the story gets a lot bonus points for both world-building and plot-development.
And for characters, there is Nym herself. Temperamental might describe her just as much as Elemental.
On that note,
Storm Siren
probably isn't the best choice for readers who like instant action or squeaky-clean stories. The story starts out slow--Nym spends the first half of the book getting oriented. It's partly the plot, which requires lots of political posturing and scheming to get the story going. It's also partly the writing, since Nym inserts a drama-queen attitude into the narration. She's got a lot of drama to be emotional about, given the way she's treated. At times, it's good drama. In her more emotional scenes, though, the attitude feels overwrought and repetitive.
After getting into the story, I mostly forgot the slow start, and Weber used Nym's past to develop some big issues like self-harm. (These particular parts do mean the book is better suited for an older-teen, mature audience.) Nym's past isn't pretty, but it felt real. On the other hand, her narrative interjections weren't always pretty either and in place, they got in the way of the story's flow. I still connected to her and the characters, but the emotional "telling" weakened the story's visceral punch.
Oh, and there is a sort-of romance running through all the political drama. Some readers believe there is also a love triangle, but I never really saw that in the story, at least reading it from Nym's perspective.
All that aside, I enjoyed the story, not to mention the cliff-hanger at the very end. Here again I differ from certain other readers, since some at least seem to assume bad things about the next book, based on this book's ending. I refuse to believe that particular train of thought, though, until I see more proof. I do believe there are plenty of bad things in store for Nym, but I'm hopeful that they will be the wonderful sorts of bad things that lead to another satisfying novel.
[My thanks to Thomas Nelson,
Storm Siren's
publisher, for providing me with a review copy in conjunction with this blog tour.]